New Changes to YPL Studio Policies and Practices
To begin, there's no guidance at the federal level on what exactly businesses should be doing to alleviate the COVID virus. Nothing about equipment, or disinfectants, that should be used, let along how to use them. And there's precious little advice from the state either, beyond recommending distancing and sanitizing by equipment users.
Having researched available equipment and techniques, YPL is confident the new class changes we've put in place and the enhanced hygienic practices we've incorporated will keep exposure to a minimum. Above all, frequent and thorough handwashing stops contact transmitted COVID in its tracks.
1. Class Changes
To help prevent community spread by either airborne or contact transmission, YPL is restricting exposure by limiting class size and observing distancing.
Privates are unaffected. The popular New Client Intro 4-Pack remains available.
Duets and Group classes are restricted to family members only. Contact (email or call) the studio for details.
Mat classes are cancelled for the foreseeable future.
Social distancing will be observed, and instructor-student contact is restricted to verbal instruction only.
Class descriptions and availability updates will be posted here as conditions change.
2. Enhanced Hygiene and Sanitizing
The two methods of COVID viral transmission are contact and airborne, either by droplet or aerosol. The first is controlled with antiseptics, the latter by wearing a suitable mask, and making sure the air is continuously exchanged and/or filtered.
Your Pilates Lifestyle has always had a rigorous policy of student responsibility for equipment sanitizing. Again, this is in accordance with Classical Pilates instruction. For many years the specially formulated EPA registered antiseptic gym wipes we use to clean the equipment have been effective in helping limit the spread of conventional diseases, including viruses similar to 2019 SARS-CoV-2. We will maintain this vigorous approach to hygiene.
The instructor will wear a mask. Clients are encouraged to do so as well. Masks have been ordered and once received will be available on request.
Unless clients are family members, only one student at a time will be allowed in the studio.
Upon entering the studio, clients will use hand sanitizer before beginning their session. Sign-in will be completed by the instructor.
After each session, students will clean the apparatus in the usual fashion, using the provided Force gym wipes.
Non-apparatus protocol: After each class we'll wipe down doorknobs, lavatory handles, and other commonly touched hard surfaces. We'll disinfect soft surfaces with a combination alcohol/hydrogen peroxide spray on a daily basis.
If you use the bathroom during your session, remember to wash your hands thoroughly when finished.
Finally, if for whatever reason you even think you're getting sick, stay home. The late cancel policy won't apply, just call so we can make the necessary adjustments to your account.
3. Environmental Changes
To prevent airborne transmission, we've upgraded the A/C filter and introduced a medical grade air purifier to help control suspended contaminates.
Installed a MERV 13 rated HVAC return filter.
Installed a true HEPA medical grade 3 rated H13 filter equipped air purifier.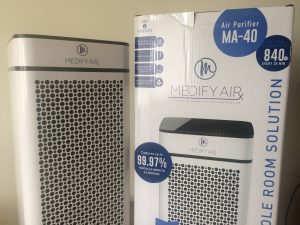 The purifier runs continuously, filtering the studio air every 15 minutes. Its HEPA medical grade 3-stage H13 filtration is rated 99.95% efficient at trapping particles as small as 0.1 micron, well within the size range (0.15) of COVID19. It also catches a lot of other airborne stuff we don't want to breath.
The purifier also has a UV ionizing function that helps trap particles as well. This will only be used when the studio is closed.
Help Us Help You Stay Safe
These existing practices and new policy additions will help protect clients and staff by interrupting community spread by using hygienic best practices and new technology to combat the disease. We look forward to a safe, sensible resumption of Classical Pilates instruction.