Your Pilates Lifestyle | 6400 Seminole Blvd. | Ste. 3 | Seminole, Florida | 33772

What Is Pilates?
Watch And Be Inspired — Pilates In Action
---
Pilates Is Much More Than Another Exercise Class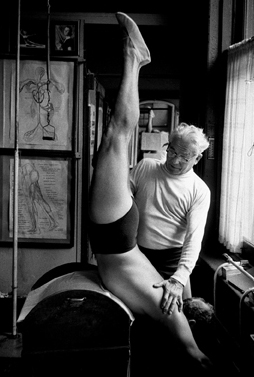 The form of fitness now referred to generically as "Pilates" was originally conceived in the late 19th century and developed in the early 20th century by German fitness enthusiast Joseph Pilates.
The son of a gymnast father and naturalist mother, young Pilates was plagued as a child by rickets and asthma. This inspired him to develop what today would be considered an original holistic approach for healing his damaged body, guided only by a hand-me-down book on anatomy, direct observation of animals he observed in the surrounding woods and forests, and an intuitive insight into the body's complex biomechanical relationships.
Through intensive study—"I learned every page, every part of the body; I would move each (body) part as I memorized it," he said—Pilates' focused dedication eventually made him a self-taught expert on how a body moves through space. This, in turn, led to his success as a gymnast in his own right, as well as a student of boxing, yoga, and the exotic fighting form we recognize today as martial arts.
In 1912 he left Germany for England to pursue a boxing career, but after World War I erupted he was instead interred as an enemy alien. His work in the prison hospital, rehabilitating war casualties on equipment of his own design, inspired what is now recognized and practiced internationally as Classical Pilates.
Joseph Pilates Refines His Concept
The real breakthrough was that Pilates, by now an accomplished physical therapist, realized that specialized equipment could multiply the effect of his very detailed exercises and dramatically extend his ability to work with patients. His first apparatus used springs scavenged from hospital beds for the resistance his evolving exercise routines required. Today, his original inventions include the Reformer, Wunda Chair, Ladder Barrel, Spine Corrector, Tower, and several other pieces of equipment.
This insight—that concentration on the movement coupled with consistent resistance—led not only to rehabilitating wounded soldiers, but to a totally new discipline of fitness training. It was the genesis for what he would label Contrology (The Art of Control) after his return to Germany following the war's end.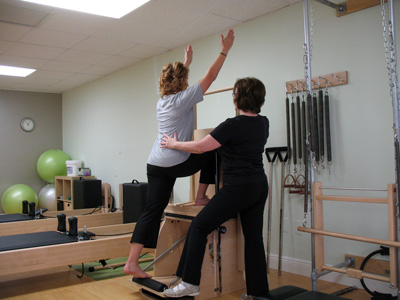 In 1925 he left Germany for New York, meeting his future wife, Clara, during the crossing. The following year, 1926, he opened his first studio in a building that also housed dance and acting studios. There, the physical benefits of Contrology—Pilates—were quickly appreciated by future dance legends like George Balanchine and Martha Graham, and that is why today Pilates is so closely associated with dance. The goal now just as it was then is the development of long, lean muscles and a powerhouse using strength, stretching, and control.
Romana Continued The Pilates Tradition
Joseph Pilates died at age 87 in 1967. His wife, Clara, continued to operate the studio until her passing ten years later in 1977, assisted by Joseph's protege Romana Kryzanowska.
Romana, the last surviving Elder, as those who were trained directly by Joseph Pilates are referred to, inspired and trained new generations of instructors in classical Pilates in her New York studio, True Pilates, until her death in August, 2013.
Today, the precise Classical Pilates movements developed by Joseph Pilates over a century ago are recognized world wide as a unique and comprehensive approach to fitness, both as a stand alone series of authentic routines and as a robust main ingredient in cross training athletes and competitors from all walks of life.