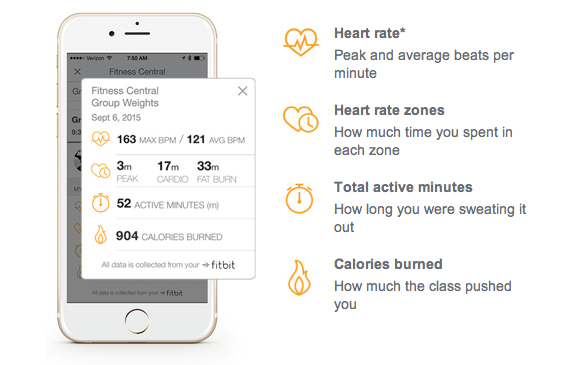 Fitbit Fits! Connect With Mindbody App
If you're one of the millions who keep track of their personal fitness with the Fitbit activity tracker, here's news you can use. If you haven't already, download the free Mindbody Connect app (see below) for smart phones (Android and Mac) and get in synch!
Measure heart rate, heart rate zones, minutes of activity, and calories burned during your workout. Get the whole picture and use that information to finetune your fitness training schedule! Find out if you're working hard, or hardly working!

Happy Birthday To YPL!
Wow! Five years ago this month I took a flying leap into the deep end of the pool. Your Pilates Lifestyle went from idea to dream to reality and today I've accumulated a lifetime's worth of great memories because of my decision to offer premium Classical Pilates to the Florida Suncoast.
To be honest, the time has flown by. I've made so many great friends during that time that my only regret is not having opened my own studio sooner.
I've enjoyed so much meeting clients from all over the world, as they've challenged themselves (and me!) to achieve the fitness level Classical Pilates is uniquely qualified to deliver. Thanks so much to each and every one of you who have supported the YPL mission – For the Best of Your Life.
Getting Enough to Drink? You Might Be Surprised!
New Research Says It Depends
Are you still trying to glug down eight glasses of water a day, come rain or shine? You don't need to, says pediatrician Aaron Carroll in his latest article originally written for the New York Times and recounted in this Yahoo! Health summary.
Start with the fact that there's no science supporting the myth of eight glasses daily. According to Mr. Carroll, it's primarily a media driven hype designed to deliver web cliks and fill local air time, especially during the summer months.
We Are Not A Nation of Dehydrated Zombies
In 2007, the author first wrote about the need for sensible hydration that doesn't demand an arbitrary daily intake. He points out that the 8-glass-a-day number probably began with a 1945 Food and Nutrition Board recommendation of 2.5 liters of water daily. What's not reported is that most of that liquid is easily found in prepared foods, from salad to spaghetti to Cheerios and milk for breakfast.

Turns out, water's everywhere. It's in the fruits and vegetables we consume, the coffee (another myth – it won't dehydrate you) and tea we drink, even the wine or beer we might enjoy with dinner.
In other words, there's absolutely no scientific basis for consuming eight glasses of water a day in addition to whatever else is passing through our bodies. It doesn't keep your skin hydrated, or make it look healthier, or iron out the wrinkles, either.
On the other hand, manufacturers of sports drinks and bottled water would certainly like for everyone to continue believing in the eight a day goal. And that's something you can take to the bank.
---
Add A Few Years to Your LIfe
If you're a runner, the Mayo Clinic Department of Sports Medicine said that putting in as little as six miles a week (52 minutes) can make a big difference in lifespan.
Even if you can't run, just getting up and moving improves the odds for a longer life with better quality at the same time. Dr. Edward Laskowski, co-director of the Clinic's program for athletes of all levels, says that, "Exercise benefits many things including your cardiovascular system, and it cuts the risk of some cancers."
Pilates is a good source of cardio, and the Reformer Jump Board will get that heart rate up in a hurry!
---
Saturday Morning Challenge
Start the weekend right. Warm up with a mat class at nine, then kick it up with a 10 o'clock tower class that will challenge your fitness!
Saturdays, 9-11: mat and tower challenge! (limit 2)
Lets Stay In Touch
It's inevitable that sooner or later a favorite student goes missing. Sometimes new pastures beckon, life throws a curveball, or the family is growing. Or maybe it's just time to take a little vacation and relax.
Whatever the reason, lets stay in touch. If you've got unused sessions and don't want to see them expire, I can put them on hold until you're ready. The important thing is to stay connected. Keep that positive Pilates energy focused and engaged for a strong physical and mental benefit.
---
Flu Season Is Now
If you haven't gotten your's yet, the Florida Department of Health is offering free shots next Wednesday, October 28, at the Pinellas Park clinic at 6350 76th Avenue North.
By all accounts this year's vaccine is very well matched to the expected virus. Innoculation takes about two weeks to be effective, so the sooner the vaccination the better.
For more info on the event visit Florida Health Pinellas County. Read more about flu shots in my October, 2014 newsletter.
---
YPL Schedule Changes
Arc Now Part of Mat Floor Classes
If you can't find the Arc floor class on the schedule, don't worry. All floor classes now show up as mat only, but the Arc is still in the lineup. If you'd enjoy an Arc class in place of a mat, just let me know.
Private and Duet Classes Added
Clients looking for Private and Duet openings now have more options. Morning slots at 9:00 a.m. Tuesday and Thursday, and an additional Monday evening 5:30 p.m. opening have been added to the schedule.
---
Book Mobile – Grab The Free App
Use your iOS or Android device to stay connected? Search the Apple iTunes or Android app store for Mindbody, then download the Connect app (right) for the latest in convenient group class fitness scheduling.
Connect features a fresh, fully customizeable user interface. Create a profile and keep track of appointments. Just download, sign in, and you're off.
note: Mobile apps can't book Privates or Duets or purchase packages at this time.
---
On The Road? Find A Class Nearby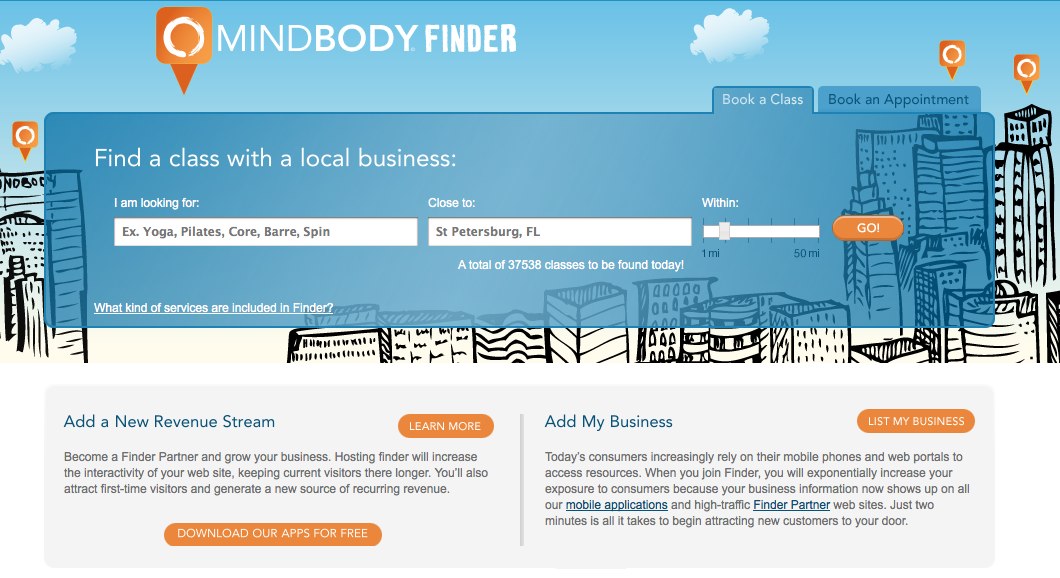 From Your Browser (left) Finding a studio or gym you can trust while on the road is a big problem. MindBody's exclusive online browser finder lets you book classes and appointments wherever you are from an extensive list of qualified fitness studios located throughout the country.
Whether you're in Seattle or Miami, New York or L.A., just
browse to the MindBody finder web page @ www.mindbodyfinder.com,
pick a practice (Pilates, yoga, etc.,)
enter your location, and
forget about slogging on that worn out hotel treadmill.
(Tip: YPL clients can also book YPL classes and sessions directly through the browser.)
---
MindBody Email Options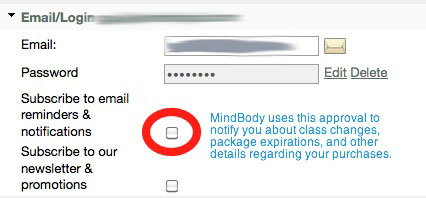 When you create your new client profile you can opt in to MindBody's email notifications and newsletters. MindBody uses notifications to keep you updated on personal account items like when your classes or packages are expiring, the number of classes you have remaining, scheduled appointments, etc. It's a good idea to make sure you check this box.
The newsletter option connects you to promotions and marketing materials from Mindbody. If that interests you, check it also.
---
YPL Is Your Online Pilates Connection
Convenient And Secure Online Scheduling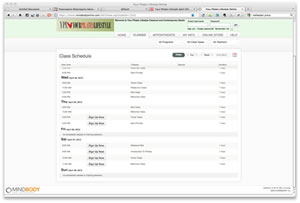 YPL offers several convenient ways to manage your sessions. The main YPL online scheduler (left) is perfect for booking your appointments, classes, and for maintaining your account. It's fast, convenient and available 24-7. Not sure how it works? Visit the help page for tips.
What happens if you miss the cutoff time for the workout slot you wanted? Just e-mail or call, and if there's a spot open I'll work you in. The same goes for those rare occasions when the system's down, or if you need to late cancel.
Social Media On Facebook, Google+, and Twitter
Social media is how I stay in touch with my profession and my great YPL clients! For specials, events, and ways to get the most out of your Pilates training, visit my Do The 100 blog. I also tweet and post on Facebook and Google+, so please follow, like or circle my pages to find out what's on my mind and to let me know what's on yours.

Book your next YPL Private or Duet (sorry, no group class sign-up yet) on Facebook!
On the YPL Facebook page click the MindBody Book Online tab, then select a service — Private or Duet — a type (same choice,) a day and time. It's quick and easy.
When you use the Facebook app to schedule it's easy to share (we'd sure like it if you did) your YPL fitness session activity directly to your own page to let your Facebook friends know how much you enjoy YPL PIlates!
---
The Pilates Contrology System – Achieving Pilates Balance
Joseph Pilates developed his breakthrough Contrology fitness concepts nearly a century ago. To explain his revolutionary exercise workouts he diagramed the importance of a physical and mental practice that, when followed, results in superior conditioning. (You can read the original Pilates Method at benjamindegenhardt.com.)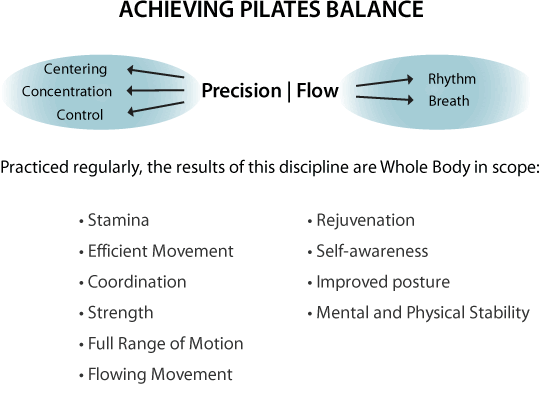 At YPL, the Classic Practice focuses on achieving the rhythmic harmony that naturally occurs when mental clarity and physical conditioning are in synch. The feeling you experience after powering through a challenging YPL workout is one of accomplishment, control, and exhilaration.
---
Two Ways To Share: Buy YPL Gift Cards Online Or In The Studio
A YPL Gift Card is a great way to introduce a friend to Pilates fitness. Treat someone special to a memorable fitness experience that's sure to make a difference.
Shop for your YPL Gift Card online today. Just select the Online Store tab, then look for Gift Cards - or customize our special YPL house brand (above) the next time you visit the studio.