Happy 4th Birthday to YPL!
Where has the time gone since Your Pilates Lifestyle opened its doors on October 16th, 2010? Its been another year of growth and shared experiences, of making new friends and seeing firsthand how Pilates can be such an important part of our health and wellbeing.

One of the great pleasures of having a small studio is the satisfaction of being able to build individual relationships along the way and sharing in the travels, family additions, career moves, and personal growth that's part of the process.
Thanks to all my wonderful clients for your part in the success of my little enterprise. I can't wait to see what the future holds!
Flu Shots Now Available.
Celebrating another birthday also means it's time for my annual flu shot. Here are a few reminders if you're still making up your mind.
The shot can't give you the flu.
Just because you've had the shot doesn't mean you can't catch a different strain.
In older recipients, protection may be lessened but it can still minimize the effects if you should catch the flu.
In 1918 the world didn't have a flu vaccine. The pandemic (H1N1) that swept the globe is estimated to have caused the deaths of between 30 and 50 million worldwide, and over 675,000 in the United States.
Learn more about the history of the pandemic here, and more about the flu here. If you'd like to keep track, visit Flu Near You. Even better, participate.
Men Don't Do Pilates? Don't Tell These Guys!
Yet another star has come forward with his personal tale of how Pilates has meant the difference between success and failure in their career. In an interview with InStyle, Joel Edgerton, who starred in The Great Gatsby, Warrior, and Kinky Boots, says that back problems he'd had for years led him to Pilates.
Instead of Don't, Maybe We Should Tell Them They Can't?
"I've been doing Pilates for a decade to straighten myself out," says the Australian actor. "It really works, and I fully recommend it. Most guys think Pilates is a girlie-girl thing. I challenge them all to go and do a proper one-hour session. They'll see."
Another familiar name – NCSI's Mark Harmon – had reached the point where his activities on the set, added to his collegiate football career, were taking a toll on his body. "For years I've been trying to find things that are less impactful on the body," he told Mens Health. For Harmon, this led him to Pilates. "I was shocked to discover how hard it is, and I like that a lot."
---
Jeopardy – What Women Really Want Is…
Ooops! The long running game show Jeopardy, where contestants provide the answer to category clues in the form of a question, very quickly ran afoul of a big part of their audience by featuring a category called, "What Women Want."
It didn't take long for this to backfire, with clues like, "A pair of jeans that fit well," and correct answers like, "What is a vacuum cleaner?"
My ears perked way up, though, when the clue offered was, "A class in a discipline originally called contrology." Answer? "What is Pilates!" Yes!
As for host Alex Trebeck, I'm guessing that maybe he doesn't practice Pilates. And maybe he should.
---
Book Mobile – Grab The Free App
Use your iOS or Android device to stay connected? Search the Apple iTunes or Android app store for Mindbody, then download the Connect app (right) for the latest in convenient group class fitness scheduling.
Connect features a fresh, fully customizeable user interface. Create a profile and keep track of appointments. Just download, sign in, and you're off.
note: Mobile apps can't book Privates or Duets, or purchase packages at this time.
---
The Pilates Contrology System – Achieving Pilates Balance
Joseph Pilates developed his breakthrough Contrology fitness concepts nearly a century ago. To explain his revolutionary exercise workouts he diagramed the importance of a physical and mental practice that, when followed, results in superior conditioning. (You can read the original Pilates Method at benjamindegenhardt.com.)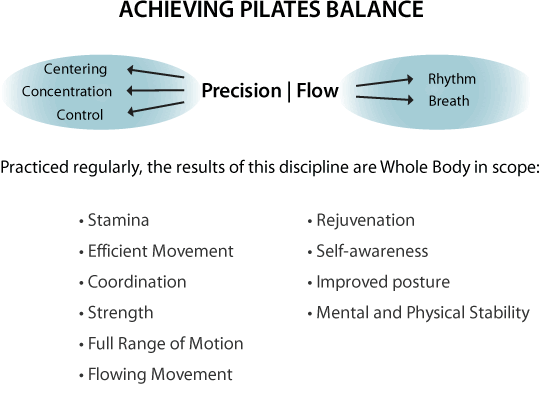 At YPL, the Classic Practice focuses on achieving the rhythmic harmony that naturally occurs when mental clarity and physical conditioning are in synch. The feeling you experience after powering through a challenging YPL workout is one of accomplishment, control, and exhilaration.
---
YPL Is Your Online Pilates Connection
Convenient And Secure Online Scheduling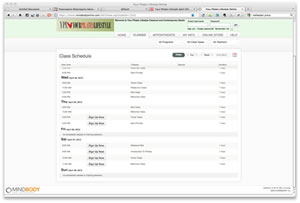 YPL offers several convenient ways to manage your sessions. The main YPL online scheduler (left) is perfect for booking your appointments, classes, and for maintaining your account. It's fast, convenient and available 24-7. Not sure how it works? Visit the help page for tips.
What happens if you miss the cutoff time for the workout slot you wanted? Just e-mail or call, and if there's a spot open I'll work you in. The same goes for those rare occasions when the system's down, or if you need to late cancel.
Social Media On Facebook, Google+, and Twitter
Social media is how I stay in touch with my profession and my great YPL clients! For specials, events, and ways to get the most out of your Pilates training, visit my Do The 100 blog. I also tweet and post on Facebook and Google+, so please follow, like or circle my pages to find out what's on my mind and to let me know what's on yours.

Book your next YPL Private or Duet (sorry, no group class sign-up yet) on Facebook!
On the YPL Facebook page click the MindBody Book Online tab, then select a service — Private or Duet — a type (same choice,) a day and time. It's quick and easy.
When you use the Facebook app to schedule it's easy to share (we'd sure like it if you did) your YPL fitness session activity directly to your own page to let your Facebook friends know how much you enjoy YPL PIlates!
---
Saturday Morning Challenge
Start the weekend right. Warm up with a mat class at nine, then follow up with a 10 o'clock tower class!
Saturdays, 9-11 - warm up on the mat, then stay for the tower! (limit 2)
Lets Stay In Touch
It's inevitable that sooner or later a favorite student goes missing. Sometimes new pastures beckon, life throws a curveball, or the family is growing. Or maybe it's just time to take a little vacation and relax.
Whatever the reason, lets stay in touch. If you've got unused sessions and don't want to see them expire, I can put them on hold until you're ready. The important thing is to stay connected. Keep that positive Pilates energy focused and engaged for a strong physical and mental benefit.
---
Two Ways To Share: Buy YPL Gift Cards Online Or In The Studio
A YPL Gift Card is a great way to introduce a friend to Pilates fitness. Treat someone special to a memorable fitness experience that's sure to make a difference.
Shop for your YPL Gift Card online today. Just select the Online Store tab, then look for Gift Cards - or customize our special YPL house brand (above) the next time you visit the studio.
---
On The Road? Find A Class Nearby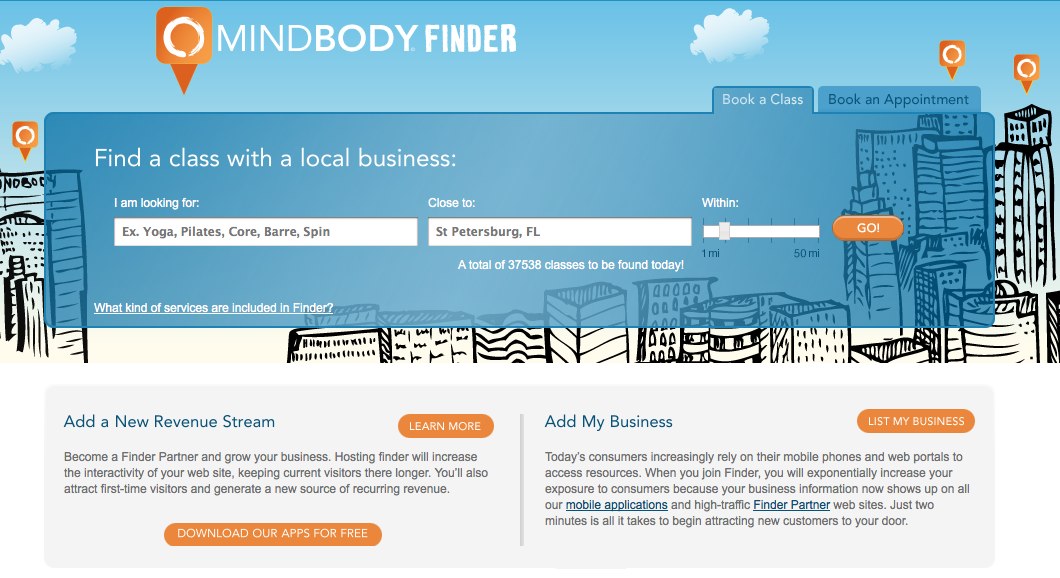 From Your Browser (left) Finding a studio or gym you can trust while on the road is a big problem. MindBody's exclusive online browser finder lets you book classes and appointments wherever you are from an extensive list of qualified fitness studios located throughout the country.
Whether you're in Seattle or Miami, New York or L.A., just
browse to the MindBody finder web page @ www.mindbodyfinder.com,
pick a practice (Pilates, yoga, etc.,)
enter your location, and
forget about slogging on that worn out hotel treadmill.
(Tip: YPL clients can also book YPL classes and sessions directly through the browser.)