Stitching Safety During Stay At Home
(photos courtesy RL)
I have exactly zero sewing skills, so when a long-time client gifted me with two of her hand-crafted, professional grade efforts I was overjoyed by the welcome addition to my very limited supply of essential PPE.
I'll not name names, but this talented seamstress has been busily stitching these bold and colorful cloth mask creations for her family, friends, and colleagues during stay at home, inspired no doubt by the vibrant, beautiful colors of her native Brazil.
Wearing Masks Saves Lives
Wearing a mask helps protect others from you, first, and you from others, second. And unless we're somehow getting tested on a regular basis, we really can't know whether or not we're infected.
Until/unless a safe vaccine is discovered, produced in quantity, and delivered to more than half the world's population, masks will continue to be the next best thing to prevent transmission of the coronavirus. Spread primarily by exhalation of droplets (sneeze, cough) and aerosols (talking, shouting, singing), those capable of infecting others include:
Symptomatic (infected by coronavirus and have the disease covid-19)
Pre-symptomatic (infected and will develop covid-19)
Asymptomatic (infected, don't realize it, and won't develop the disease)
This article in The Oregonian helped me understand how effective various materials found around the home, especially cloth, can be at filtering particles the size of coronavirus, by comparing them to the N95 standard we've all learned about in the past several months.
Bottom line, it's a virus that's primarily spread by exhalation, not contact, and any method of slowing it down is considered a good thing. If you've been searching and were unable to find face masks, you might try this list of sources.
Thanks, again, to my wonderful clients who make teaching Pilates so rewarding.
---
Changes to Studio Operations
Air purifier with hospital grade filtration, UV ionizer.
As May comes to a close, and after eight weeks of closure, the studio reopened Monday, May 18th. We did so only after studying the available information and putting together a best practices combination of sanitization and modified teaching techniques to provide the safest environment possible for Classical Pilates instruction.
The guidance at the federal level on exactly what businesses should be doing to alleviate COVID is either confusing or nonexistent, but experts, like Ochsner Medical in Baton Rouge, seem to be in agreement that a combination of sanitization, personal hygiene, and environmental controls continue to offer the best protection against transmitting the virus.
I'm confident that between the changes to class size and the enhanced hygienic practices we've incorporated will keep exposure to a minimum. Most of all, frequent and thorough handwashing stops contact transmitted COVID in its tracks.
1. Class Size Changes
To help prevent community spread by either airborne or contact transmission, YPL is restricting exposure by limiting class size and observing distancing.
Privates are unaffected. The popular New Client Intro 4-Pack remains available.
Duets and Group classes are restricted to family members only. Contact (email or call) the studio for details.
Mat classes are cancelled for the foreseeable future.
Social distancing will be observed, and instructor-student contact is restricted to verbal instruction only.
2. Enhanced Hygiene and Sanitizing
The two methods of COVID viral transmission are contact and airborne, either by droplet or aerosol. The first is controlled with antiseptics like hand sanitizers and equipment wipes, the latter by wearing a suitable mask, and by making sure the air is continuously exchanged and/or filtered.
Your Pilates Lifestyle has always had a rigorous policy of student responsibility for equipment sanitizing. This is basic Classical Pilates instruction.
The instructor will wear a mask. Clients are encouraged to do so as well. As we learn more about the disease, one of the most important findings is the role asymptomatic carriers play in how COVID is spread, and the discovery of so-called super spreaders among the populations. Masks have been ordered and once received will be available on request.
Unless clients are family members, only one student at a time will be allowed in the studio.
Upon entering the studio, clients must use hand sanitizer before beginning their session. Sign-in will be completed by the instructor.
After each session, students will clean the apparatus in the usual fashion, using the provided Force gym wipes.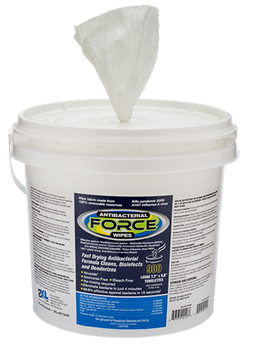 YPL uses 2XL Force Disinfectant Wipes, a powerful, EPA registered disinfectant effective against bacteria and corona like viruses.
For many years the specially formulated and EPA registered antiseptic gym wipes we use to clean the equipment have been effective in helping limit the spread of conventional diseases, including viruses similar to 2019 SARS-CoV-2.
I'm also using a disposable barrier film on certain equipment as needed to inhibit possible surface contamination.
General cleaning: We'll regularly wipe down commonly touched hard surfaces and disinfect soft surfaces with a combination alcohol/hydrogen peroxide spray.
If you use the bathroom during your session, remember to wash your hands thoroughly when finished.
Finally, if for whatever reason you even think you're getting sick, stay home. The late cancel policy won't apply, just call so we can make the necessary adjustments to your account.
3. Environmental Changes
On the equipment side, you'll now see an H13 medical grade rated air purifier (above) which filters the air in the entire studio every 15 minutes. The HEPA medical grade 3-stage H13 filter it uses is rated 99.95% efficient at trapping particles as small as 0.1 micron, well within the size range of COVID19.
It catches a lot of other airborne stuff as well, and the built-in UV ionizer, which I run for several hours after sessions, kills organisms outright.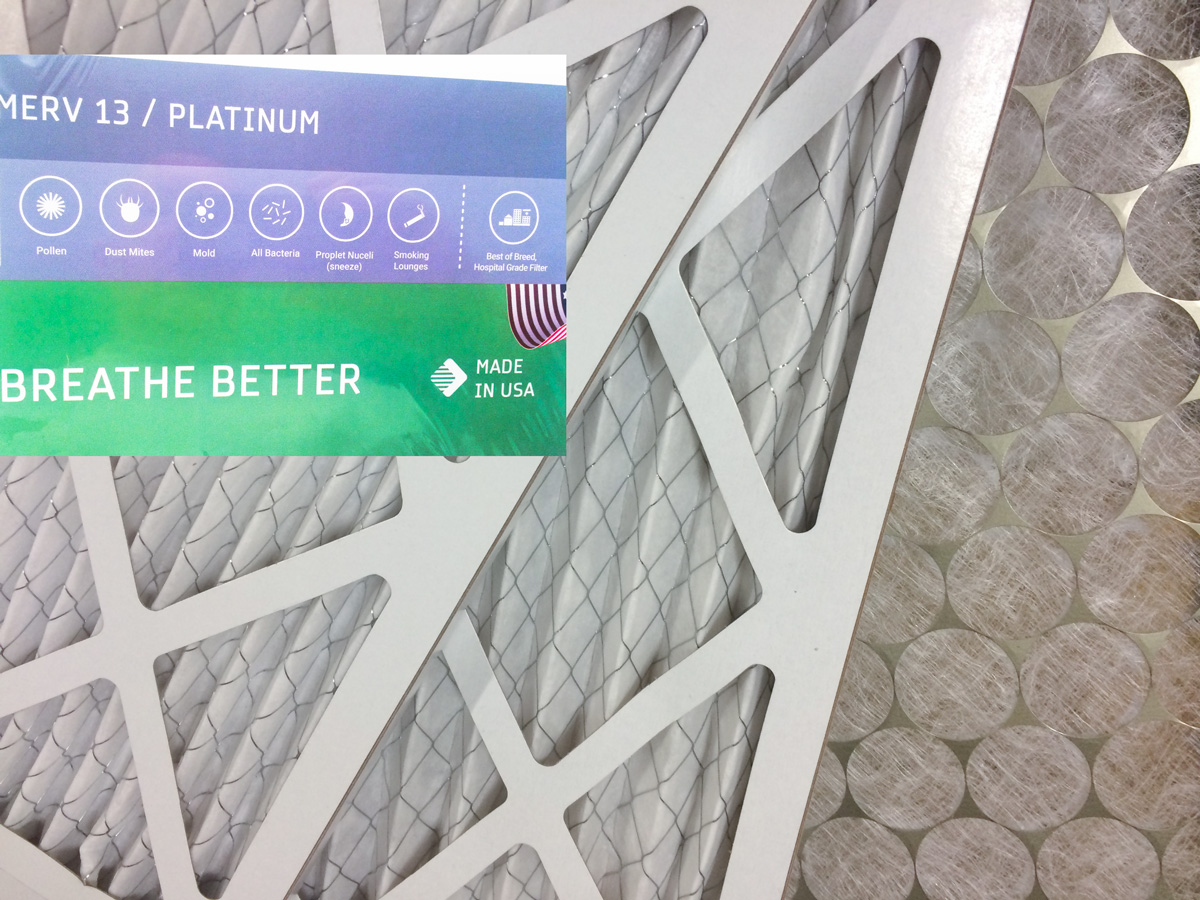 (l-r) MERV 13, MERV 8, standard flat fiberglas HVAC filters
The A/C filter has been upgraded to a MERV 13 (above left) rating, which is much more effective than either the MERV 8 or conventional filters shown. The more pleats, the better, as they increase the surface area being filtered. Together, air purification and enhanced HVAC filtration help make sure the air is continuously circulated, filtered, and cleaned.
Help Us Help You Stay Safe
Our existing practices combined with the new policy, hygiene, and environmental changes help protect everyone from COVID by interrupting community spread and transmission. We look forward to a safe, sensible return of Classical Pilates instruction.
---
Lets Stay In Touch—Now More Than Ever
As we slowly begin to resume where we left off at the beginning of spring, we face significant new challenges. Learning as we go means being overly cautious as we come to understand the new boundaries of acceptable behavior.
If you've got unused sessions and don't want to see them expire, I can put them on hold until you're ready. The important thing is to stay connected. Keep that positive Pilates energy focused and engaged for a strong physical and mental benefit.
---
Lee Cotton, Registered Dietician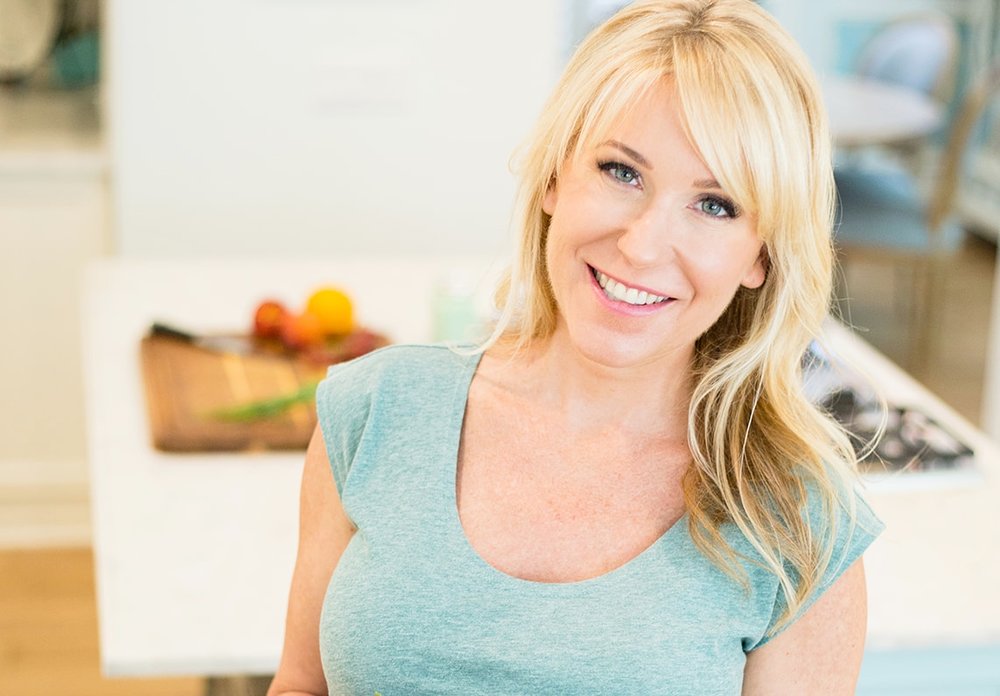 Lee Cotton is a Classically trained Power Pilates instructor and Registered Dietician.
Interested in the role diet and nutrition play in optimizing your overall health? Lee Cotton, RDN, coaches clients on how to make the best dietary choices for a healthy lifestyle.
Lee and I trained together, earning our Power Pilates certification at the same time, and have remained in touch over the years since. She's a truly talented devotee of Pilates and an excellent source of information on understanding the role proper nutrition plays in staying healthy.
Her extensive Pilates training, in particular her thorough understanding of the mind-body connection, is an excellent foundation for her new passion. She helps her clients discover a way of life eating pattern that is best suited for their own individual needs, not just another fad-driven temporary fix.
If the topic of following a healthy diet and learning what changes you could make in your own kitchen to achieve that goal interests you, I encourage you to contact Lee and see what a difference she can make in your life.
---
Mari Winsor Dies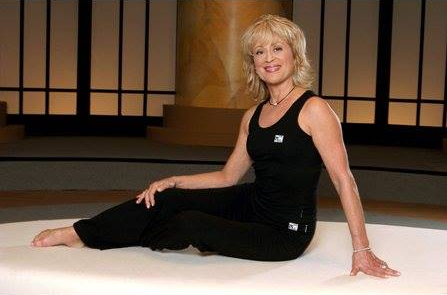 After a years long struggle with ALS, Mari Winsor died April 28 in her Los Angeles home. Even at age 70, she continued to be an inspiration to the many thousands who will remember her as a dedicated and multi-talented messenger for living a fuller life through Pilates.
She was a Pilates icon whom I admired and looked up to for guidance in my own studio practice. Her Winsor Pilates studio was enormously influential in extending Pilates to a larger audience beyond the core dance and athletic followers. Her style and dedication to Pilates will not be easily replaced.
---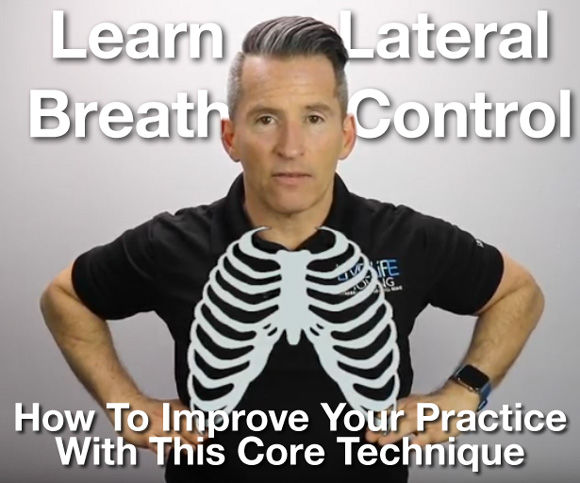 The Pilates Contrology System
When Joseph Pilates created his fitness training method, his focus was on controlling the body by engaging the mind. He named his theory Contrology, and when understood and followed greatly improves the results you'll experience at every level.

It isn't easy to combine the physical with the mental. When we do The 100, for instance, it's a lot easier to simply go with the flow than it is to concentrate on proper form, breathing, engagement, and the other factors that could be called multi-tasking.

You can learn more about the mind-body connection in this short article that does a good job of explaining the rewards of pursuing a Contrology workout.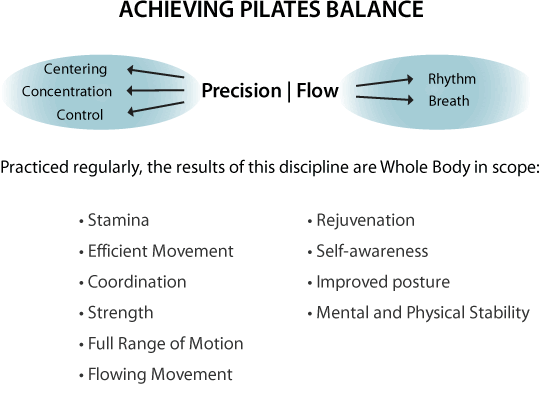 At Your Pilates Lifestyle, my Classic Practice focuses on achieving the rhythmic harmony that naturally occurs when mental focus and physical conditioning are in synch. The feeling experienced after powering through the challenge of a Classical workout is one of accomplishment, control, and exhilaration.