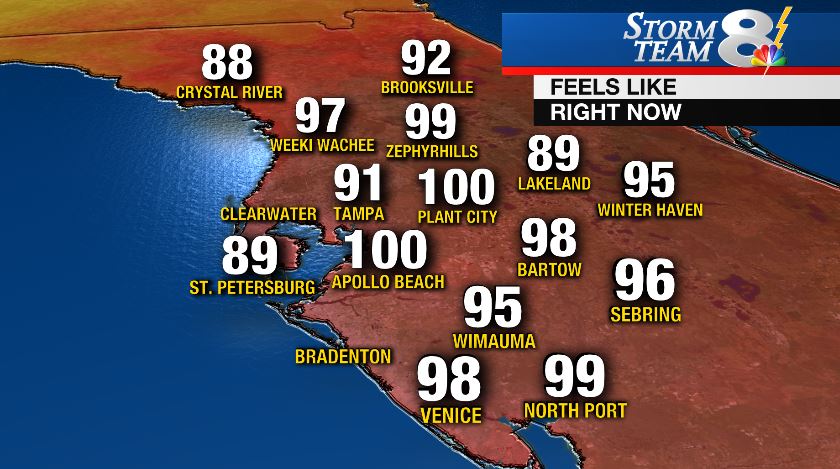 Did the Thermometer Twitch?
Last week marked the setting of a new record for the Bay area. We're talking about the number of days when the temperature failed to drop below 70 degrees. We finally broke out the other evening, when the overnight temp managed to cool down to 69, which I'm sure everyone found just as refreshing as I did!
With nothing left of Halloween but a few empty candy wrappers and Thanksgiving just around the corner, any break from daytime heat indexes in the mid-90s is more than welcome.  The fact that we Fell Back this past weekend means it's a sure sign Fall really has arrived, even though it's a few weeks late.
Now is the perfect time to get out and enjoy an early morning walk on the beach or visit one of our wonderful county parks before the weather takes another swing and we're into what we refer to as Winter.
YPL Turns Nine
Last month Your Pilates Lifestyle celebrated another birthday since we first opened our door in 2010. How much everything has changed since then!
Thanks to all my wonderful clients over the years whose support and encouragement has meant the world. It's a privilege to watch Joseph Pilates theories on health and fitness transformed into real world results, and to know that Pilates can and does make a difference in peoples lives.
Reformer Training Is the Complete Workout
Training on the Pilates Reformer is definitely a challenge when you're first starting out. To begin with, it's very technical. Springs and straps, boxes and foot bars, sequences and positions. Learning the ropes (so to speak) requires concentration and dedication. Doing so while you're actually working out means maximum focus on the activity.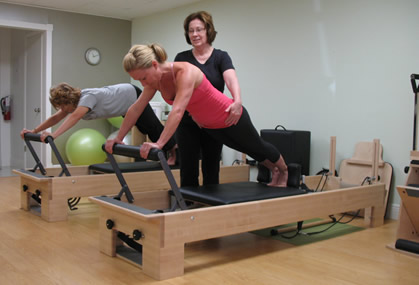 Nothing compares to a Classical Pilates Reformer workout.
According to one trainer, commenting in this excellent Harper's Bazaar article about the unique benefits of Joseph Pilates Contrology method using the Reformer, it comes down to, "movement choreography." And that's exactly what Pilates instructors do.
We guide our students on how to perform their practice as a choreographed experience. And in order to do so properly, the mind must be fully engaged—there's no time for day-dreaming during a workout.
One of the most valuable aspects of Pilates Reformer training is that it can be easily adjusted up or down depending on the individual. If you're just starting out, even if you're just beginning your very first fitness program regardless of experience, there's a path to greater flexibility, strength, and stamina.
---
What It Takes to Swim Among Icebergs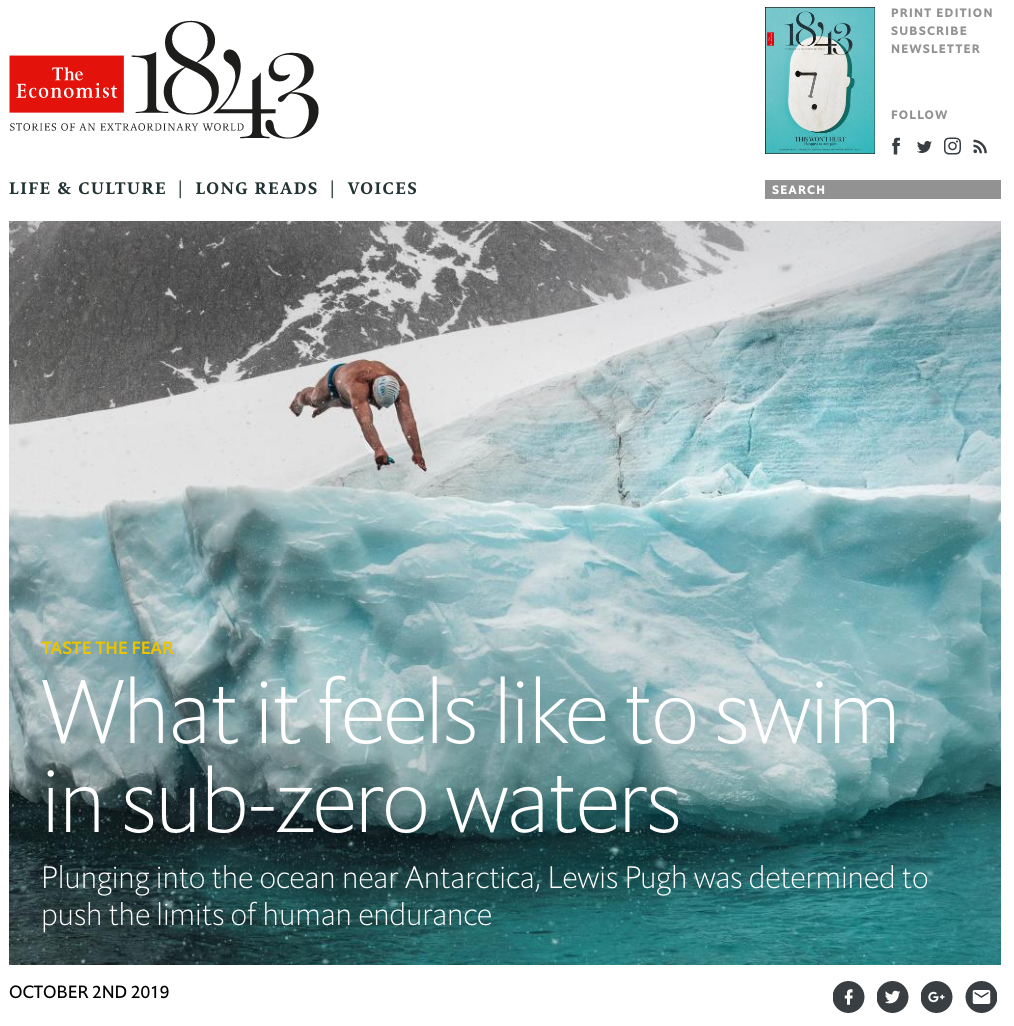 This has nothing at all to do with Pilates, but everything to do with fitness. Extreme fitness.
This is included simply because I'm amazed at the total dedication required to overcome what would otherwise be fatal behavior by most of us in the human race.
There's not a lot to say. I'm not a swimmer, so there's no connection there. My showers tax the water heater's capacity every time I turn on the tap. Cold weather in general sends me running for the couch and comforter.
I enjoy watching BBC specials narrated by David Attenborough, showing polar bears, penguins, seals, and sea lions sliding gracefully into frigid waters and seemingly enjoying the activity.
This man describes what it takes and what it feels like to swim in that same 26-degree water, while his team keeps an eye out for things that might want to eat him as a snack.
---
Okay, You're 50. Now What?
A dear friend once commented on the passage of time and its effect on our bodies as we age. "Ain't time a wrecker," she asked only somewhat rhetorically, and you know it's true. This is a great article that tackles the workout issues we face as we age.
What we took for granted in our 30s is not quite so doable in our 50s and beyond. There's no great mystery here—we change over time, and the tradeoff of physical ability for wisdom (which isn't guaranteed!) at times seems rather unfair.
One solution is, don't worry about it. By recognizing what otherwise might escape our attention, we can help slow, if not eliminate, those things that are slowing us down.
As we age, our bodies ability to cope with temperature extremes is compromised, more so if we're not conditioned in the first place. Staying properly hydrated needs to be on everyone's list of daily activities.
Taking time for recovery, getting the sleep you need and more, checking meds for their potential effect on workouts, and paying attention to nutrition are all important to maintaining our fitness.
The answer to coping with the brakes that time puts on us is to adapt, adjust, and keep taking stock of changes in our lifestyles that might affect our ability to perform physically. It happens to everyone, but the lesson is, don't give up, and never quit trying. See you in the studio!
---
I'm Just Starting Out — Why Do I Need Privates?
If your only experience with Pilates is with a big box mat class workout you're probably not familiar with a Classical Pilates fitness program at a dedicated studio, or that the first session should be a Private.
The short answer I tell new students is that Privates are the best way for both of us to get to know each other, because that's the only way I can actually interpret how your body reacts to specific Pilates movements.
By the time we've scheduled your intro session, I've already considered specific issues you've included on your intake form. But that doesn't mean I'm aware of every issue you may have that relates to a Classical Pilates workout. I've found over the years that more often than not, clients overlook or just forget to include health issues that might adversely affect their workout.
Classical Pilates teachers do more than just put you through your paces. We're constantly evaluating your body's reaction as you're introduced to the Tower, Reformer, Chair, and other apparatus. It's much easier — even essential — to manage your individual needs when I can see what you can't.
---
Workout Fads Don't Last
Here's how our busy social media schedules can get us in trouble. Pick a platform—Facebook, Pinterest, Twitter, Instagram—and plug in your interests. For some, it's all about chasing the next trendy workout, usually a variation on a traditional move or series of moves.
While it's a fact that the web is a bountiful source of really good information, it's also true that there aren't any limits at all on what can be presented as fact. And if you're following what's known as an influencer, there's even more reason to be a little skeptical.
Often published without context, or any appreciation for the unique issues that may affect any individual, the articles are geared to engage viewers and earn hits that translate into ad dollars for the posters.
"I hate the way that Instagram encourages you to do every workout and exercise you see—and the more complicated, the more popular they are." That's from certified strength coach Sohee Lee, in an article in SELF on the subject.
One of my concerns is the use of kettle bells across the board. These seemingly benign weights with the sort of cute name can quickly lead to serious injury when used without proper supervision. An over zealous, barely qualified trainer at a big box gym facility who thinks the measure of their success comes from the tears rolling down a client's face are fully capable of causing immeasurable damage now, and years down the road.
 The bottom line for fitness regardless of the practice is, it takes time, dedication, and consistency. When you take that approach, you'll find the results much more satisfying, as well as lasting.
---
Lets Stay In Touch
It's inevitable that sooner or later a favorite student goes missing. Sometimes new pastures beckon, life throws a curve ball, or the family is growing. Or maybe it's just time to take a little vacation and relax.
Whatever the reason, lets stay in touch. If you've got unused sessions and don't want to see them expire, I can put them on hold until you're ready. The important thing is to stay connected. Keep that positive Pilates energy focused and engaged for a strong physical and mental benefit.
---
First-Aid When You Need It
When was the last time you checked your home or car first-aid kit? Those 10-year-old bandaids might not perform in an emergency, and pretty sure the "best if used by" date on the antiseptic might have come and gone. This article from the Mayo Clinic lists common contents you might consider for putting together your own kit.
From minor scrapes to serious emergencies, your first line of defense for household or on-the-road medical issues is a well thought out first-aid kit containing common pain relief and wound treatments as well as items tailored to your individual needs.
Kits have come a long ways since the days of iodine, adhesive tape, cotton gauze, and a wooden splint. Your supplies might include bee and wasp sting pain reliever, super glue, hot or cold packs, even a flash drive with emergency information that's easily accessible by emergency personnel. (And don't overlook filling in your smartphone health info medical ID app.) A small LED flashlight might also come in handy.
You can find a basic kit at any CVS or Walgreen's, and Amazon offers a variety of choices, but for a better outcome you might spend some time assembling individual contents and then packing them in a custom container that's sturdy, lightweight, and water resistant. (For perishable items, label the purchase date for reference.)
The thing about emergencies is that they are emergencies. Obviously there's a line to be drawn between too much and too little, but time and experience will help you determine what's best for your circumstances.
---
The Pilates Contrology System
When Joseph Pilates created his fitness training method, his focus was on controlling the body by engaging the mind. He named his theory Contrology, and when understood and followed greatly improves the results you'll experience at every level.
It isn't easy to combine the physical with the mental. When we do The 100, for instance, it's a lot easier to simply go with the flow than it is to concentrate on proper form, breathing, engagement, and the other factors that could be called multi-tasking.
You can learn more about the mind-body connection in this short article that does a good job of explaining the rewards of pursuing a Contrology workout.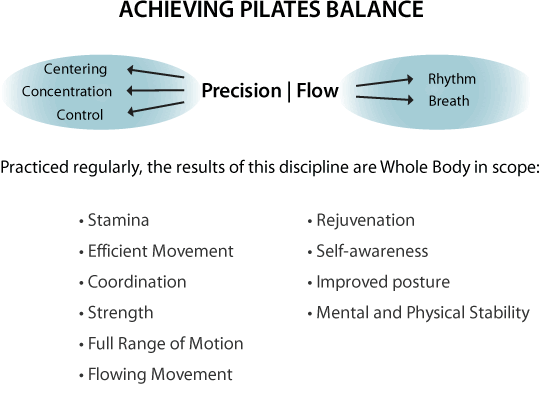 At Your Pilates Lifestyle, my Classic Practice focuses on achieving the rhythmic harmony that naturally occurs when mental focus and physical conditioning are in synch. The feeling experienced after powering through the challenge of a Classical workout is one of accomplishment, control, and exhilaration.