Romana Kryzanowska (left) and Julian Littleford (right) will be long remembered for their enormous influence in extending the practice of Pilates to grateful followers throughout the world.
Pilates Community Remembers
This August was a difficult month for the global Pilates community. We lost two extraordinary individuals that, safe to say, without whom Pilates wouldn't be the vibrant, invigorating path to physical and mental fitness it is today.
Romana Kryzanowska, Elder 1923-2013
Facebook
Romana Kryzanowska, the first instructor trained by Joseph Pilates and his wife Clara in their New York studio and the last surviving Elder, as his original disciples were referred to, died August 30 following a short period of declining health.
As a young 17-year-old dance student of legendary choreographer George Balanchine she suffered a bone chip in her ankle. He introduced her to Joseph Pilates to see if his revolutionary concept of physical and mental fitness could rehabilitate her injury rather than the physician recommended surgery.
It did, and she quickly went from a paying pupil to an apprentice helper before setting out to develop her own worldwide clientele.
Following Joe Pilates death in 1968, Romana, together with Clara Pilates, continued teaching what is referred to as the Classical method, adhering faithfully to Joe Pilates' original concepts.
Julian Littleford, First Generation Elder
Facebook
Julian Littleford earned his Pilates credentials by a somewhat different but no less comprehensive route. Loved and respected around the world, on August 31 he finally succumbed to the cancer he'd battled for months.
Julian's more flexible Pilates methodology followed a parallel path to that taught by Romana and her followers. Like Romana and so many others, he came to Pilates from a well grounded background in ballet.
In 1990 Julian opened his own studio in Southern California, and it was from this base that he built an international following for his contemporary training, seminars and events.
I came to know Julian on the internet, where I was immediately impressed with his scope of knowledge and a personality that transcended the computer screen.
Passing The Torch, Continuing The Tradition
My Pilates teacher, Tess Whelan, was taught and certified by Romana as a Second Generation Instructor at what is now known as the True Pilates New York studio in New York City.
It is through my apprenticeship followed by two years of teaching (2008-2010) at her Pilates Premier Studio (1995-2012) in St. Petersburg that I'm able to appreciate the original disciplined approach as developed by Joe Pilates.
Both personalities have greatly influenced my own practice and both will guide my growth as I continue to instruct my own clients in the true spirit of Pilates fitness.
---
What's This? Jury Duty! Oh No!
Your Pilates Lifestyle will be closed Monday, September 9th, while I report for possible jury duty. It's like winning the reverse lotto.
While I take civic duty seriously, I still hope for a quick dismissal from the pool. I'll keep everyone up-to-date on Facebook and Twitter.
---
Fall Into Fitness September Floor Special!
Save 15% Off Any Floor Class – Use Promo Code "floor2013"
Just in time to welcome the end of Summer – sure doesn't feel like it though! – is a Floor Class Fall Into Fitness Special at YPL. Save 15% off any mat or arc class, singly or as a package, throughout September.
Don't let this fantastic fall floor fitness special slip by – just use promo code "floor2013" at checkout and reel in those savings! (Offer good one time only, September, 2013 only.)
---
Saturday Morning Wake Up
Start the weekend right. Warm up with a mat class at nine, then follow up with a 10 o'clock tower class!
Saturdays, 9-11 - enjoy the mat, then stay for the tower challenge! (limit 2)
Don't Be A Stranger!
In every studio it's inevitable that sooner or later a favorite student goes missing. Sometimes new pastures beckon, life throws a curveball, or the family is growing. Or maybe it's just time for a break in the routine.
Whatever the reason, lets stay in touch. If you've got unused sessions and don't want to see them expire, I can put them on hold until you're ready. The important thing is to stay connected. Keep that positive energy focused and engaged for a strong PIlates physical and mental benefit.
---
YPL Celebrates
Stay tuned for news as YPL celebrates her third anniversary next month. Its been a fabulous journey so far, thanks to all my wonderful clients and your fantastic support.
---
Connecting With YPL – Your Choice
Convenient And Secure Online Scheduling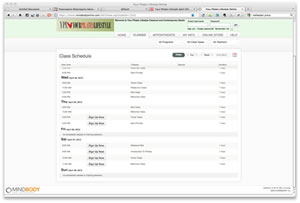 YPL has several convenient ways to manage your sessions. The YPL online scheduler (left) is the main control center for booking appointments, classes, and for maintaining accounts. It's fast, convenient and available 24-7. Not sure how it works? Visit our help page for tips.
What happens if you miss the cutoff time for the workout slot you wanted? Just e-mail or call, and if there's a spot open I'll work you in. The same goes for those rare occasions when the system's down, or if you need to late cancel.
Social Media On Facebook, Google+, and Twitter
Social media is how I stay in touch with my profession and my great YPL clients! For specials, events, and ways to get the most out of your Pilates training, visit my Do The 100 blog. I also tweet and post on Facebook and Google+, so please follow, like or circle my pages to find out what's on my mind and to let me know what's on yours.

Book your next YPL Private or Duet (sorry, no group class sign-up yet) on Facebook!
On the YPL Facebook page click the MindBody Book Online tab, then select a service — Private or Duet — a type (same choice,) a day and time. It's quick and easy.
When you use the Facebook app to schedule it's easy to share (we'd sure like it if you did) your YPL fitness session activity directly to your own page to let your Facebook friends know how much you enjoy YPL PIlates!
Mobile? Road Warriors Need To Work Out Too
Find And Book Mobile, Browse And Workout Online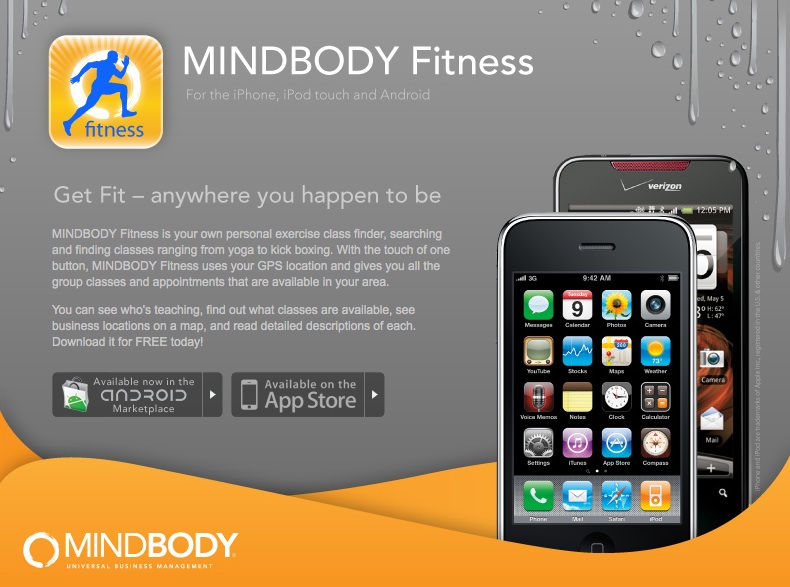 If you depend on your mobile device to stay connected, check out our app for your phone or tablet. Available from the iTunes App Store, the Mindbody Fitness app quickly shows what's available and lets you book on the go.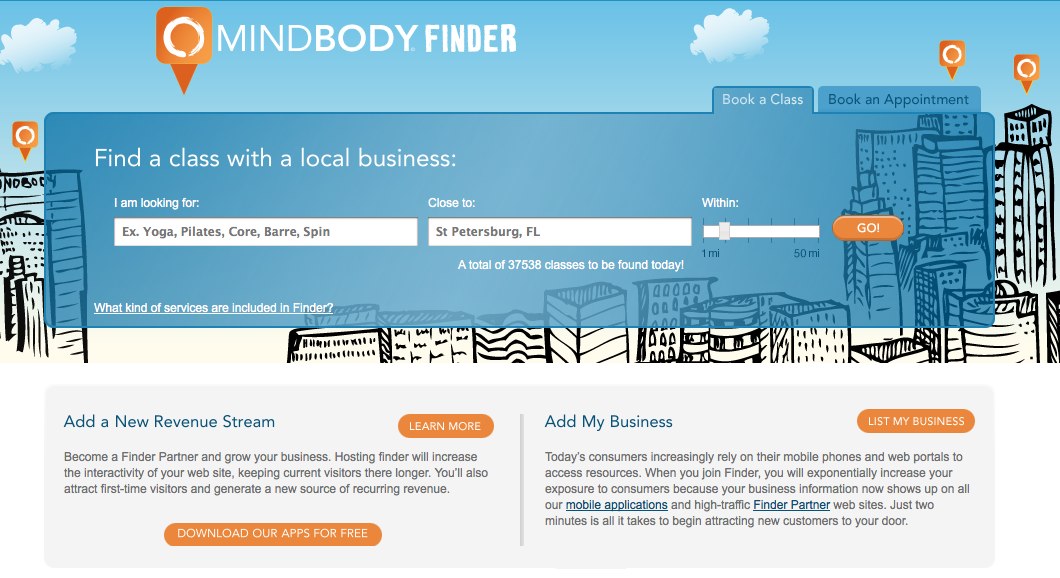 When you're traveling, finding a studio or gym you can trust is a big problem. MindBody's exclusive online browser finder locates the next available fitness class wherever you are, from their extensive list of qualified fitness studios located throughout the country.
Whether you're in Seattle or Miami, New York or L.A., just
browse to the MindBody finder web page @ www.mindbodyfinder.com,
pick a practice (Pilates, yoga, etc.,)
enter your location, and
forget about slogging on that worn out hotel treadmill.
(Tip: if you're a YPL client, you can also book YPL classes and sessions directly through the browser.)
---
The Pilates System
Joseph Pilates explained his breakthrough fitness concepts nearly a century ago, when he developed an interrelated set of physical and mental relationships that, when followed, achieve a defined goal. (You can read the original Pilates Method at benjamindegenhardt.com.)
To explain his revolutionary fitness plan he diagramed the importance of developing a physical and mental relationship.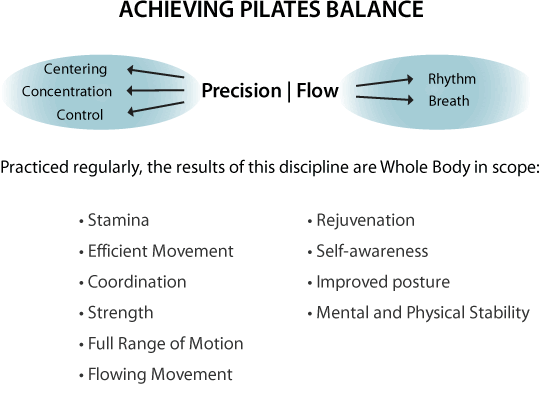 At YPL, the Classic Practice focuses on achieving the rhythmic harmony that naturally occurs when mental clarity and physical conditioning are in synch. The feeling you experience is one of accomplishment, control, and exhilaration after powering through a challenging workout.
---
Two Ways To Share: Buy YPL Gift Cards Online Or In The Studio
A YPL Gift Card is a great way to introduce a friend to Pilates fitness. Treat someone special to a memorable fitness experience that's sure to make a difference.
Shop for your YPL Gift Card online today. Just select the Online Store tab, then look for Gift Cards - or customize our special YPL house brand (above) the next time you visit the studio.