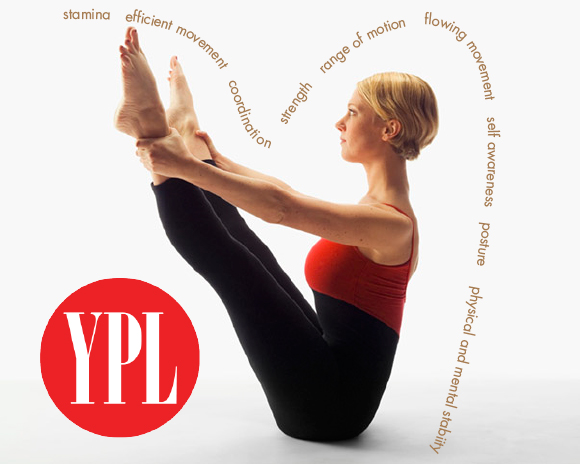 What Is Pilates?
Between boot camps, dance beat workouts, wall climbing and ultra fit weight catching contests, Pilates remains as the only widely recognized fitness method to be named after its founder, thus fitting into that uncommon category of both noun and verb.
But what does "doing Pilates" really mean? Kevin A. Bowen is a co-founder of the Pilates Method Alliance. His definition of Pilates, below, is the best I've read.
Stretch, Strengthen And Balance
Developed in the early 1900s by German-born Joseph Pilates, the Pilates exercise method is a program of physical movement designed to stretch, strengthen, and balance the body. In 1926 Joseph and his wife Clara introduced their exercise system, originally called "Contrology", to New York City.

Pilates exercise focuses on postural symmetry, breath control, abdominal strength, spine, pelvis and shoulder stabilization, muscular flexibility, joint mobility and strengthening through the complete range of motion of all joints. Instead of isolating muscle groups, the whole body is trained, integrating the upper and lower extremities with the trunk.
"Contrology is complete coordination of body, mind and spirit. Through Contrology you first purposefully acquire complete control of your own body and then through proper repetition of its exercises you gradually and progressively acquire that natural rhythm and coordination associated with all your mental and subconscious activities." (Joseph Pilates, 1945)
What I like about Kevin's definition is that it specifically lists the fully integrated low impact approach to fitness and well-being that separates Pilates from the competition.
---
What's Best For A Post-Workout Recovery?
This Reward Really Refreshes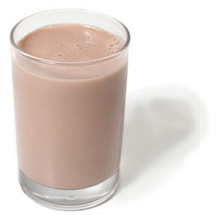 When it comes to post workout recovery, there's no limit to the number of products that promise to restore your body in no time flat. What Fitness Magazine found out was that an old childhood favorite outperformed many if not most of its liquid counterparts.
In a series of strictly controlled experiments test subjects consumed low-fat chocolate milk while others downed several popular performance consumer drinks. Thanks to a protein and carbohydrate content that's nearly double that of the big brand options, along with calcium, salt and sugar, chocolate milk is significantly better at both immediate rehydrating and rebuilding over time.
The only disappointing news is that this approach is only recommended for athletes who routinely push themselves to the limit and definitely need a recovery program. Casual exercisers – you know who you are – probably won't see any benefit.
I say let your conscience be your guide. If you think you deserve a smooth chocolaty reward after a tough advanced reformer session, drink up!
---
Saturday Morning Wake Up
Start the weekend right. Warm up with a mat class at nine, then follow up with a 10 o'clock Tower class!
Saturdays, 9-11 - enjoy the mat, then stay for the Tower (limit 2) challenge!
Don't Be A Stranger!
In every studio it's inevitable that sooner or later a favorite student goes missing. Sometimes new pastures beckon, life throws a curveball, or the family is growing. Or maybe it's just time for a break in the routine.
Whatever the reason, lets stay in touch. If you've got unused sessions and don't want them to expire, I can put them on hold until you're ready to resume. The important thing is to stay connected. Keep that positive energy focused and engaged for a strong PIlates physical and mental benefit.
---
Class and Appointment Sign-Ups
Whether online using your desktop or laptop, keeping up with your friends on Facebook, or on the go with your mobile device, you're never more than a few taps or mouse cliks away from booking a class or renewing your classes and appointments.
Mindbody Mobile Fitness App
Our mobile app is perfect when you need to schedule and you're in a hurry. (If you haven't downloaded yours yet, see the instructions below.)
Mindbody Online Browser App
The most versatile method of booking classes and appointments and for making sure your package is current is to use the browser version. Choose the Classes or Appointments tab on the home screen to see your choices for reservations and purchases.
The Online Store tab includes the option to purchase YPL Package Combos, either Private or Group, as well as Group and Floor choices. For more information please visit the web site.
---
Connecting With YPL Online
Convenient And Secure Online Scheduling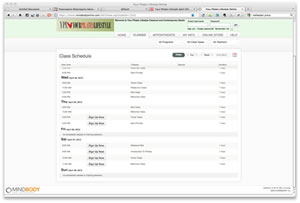 YPL has several convenient ways to manage your sessions. The main YPL online scheduler (left) is the main control center for booking appointments, classes, and for maintaining accounts. It's fast, convenient and available 24-7. Not sure how it works? Visit our help page for tips.
What happens if you miss the cutoff for the workout time slot you wanted? Just e-mail or call, and if there's a spot open I'll work you in. The same goes for when the system's down and you can't log in, or if you need to late cancel.
YPL On Facebook, Google+, and Twitter
Social media is how I stay in touch with my profession and my great YPL clients! For specials, events, and ways to get the most out of your Pilates training, visit my Do The 100 blog. I also tweet and post on Facebook and Google+, so please follow, like or circle my online pages to find out what's happening and to let me know what you have to say.

Book your next YPL Private or Duet (sorry, no group class sign-up yet) on Facebook!
On the YPL Facebook page click the MindBody Book Online tab, then select a service — Private or Duet — a type (same choice,) a day and time. It's quick and easy.
When you use the Facebook app to schedule it's easy to share (we'd sure like it if you did) your YPL fitness session activity straight to your own page and let your Facebook friends know how YPL PIlates keeps you fit!
Mobile? Road Warriors Need To Work Out Too
Find And Book Mobile, Browse And Workout Online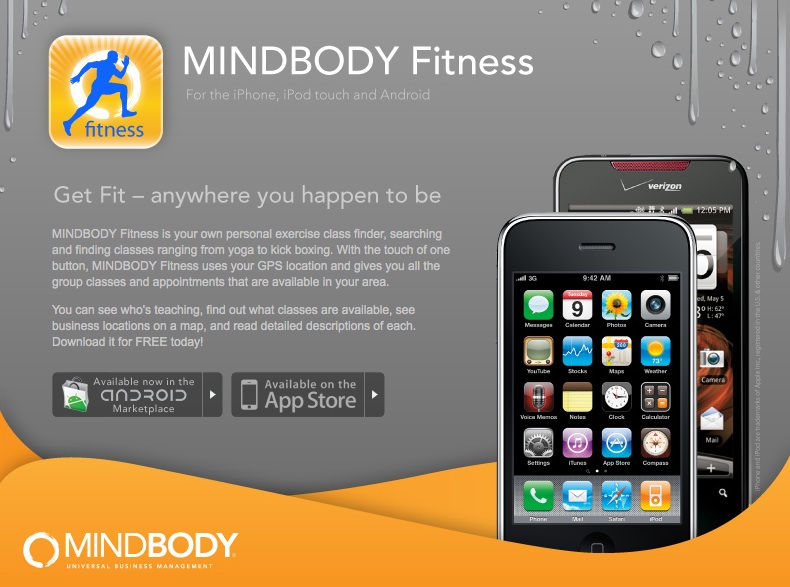 If you depend on your mobile device to stay connected, check out our app for your phone or tablet. Available from the iTunes App Store, the Mindbody Fitness app quickly shows what's available and lets you book on the go.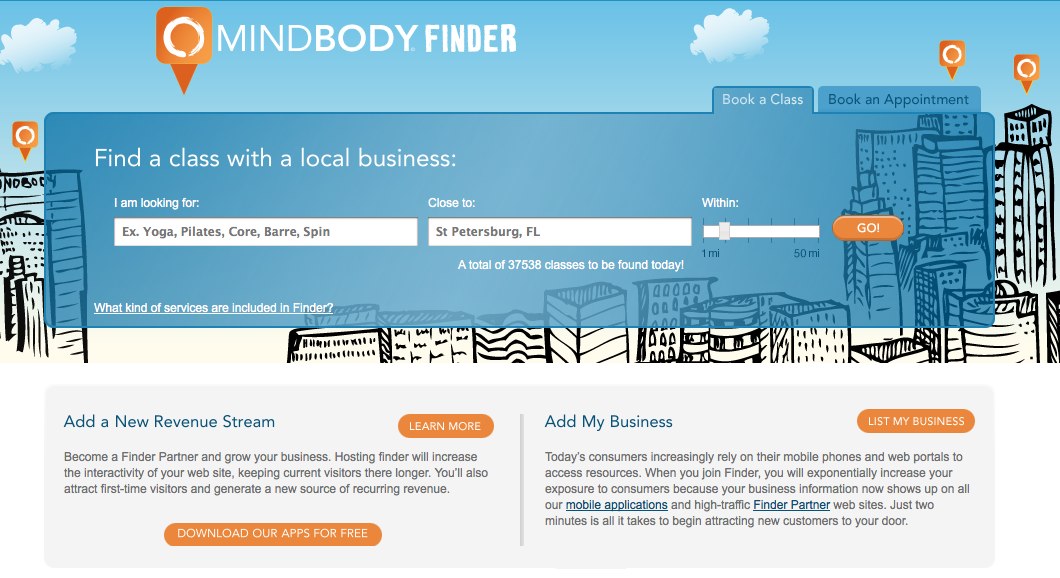 When you're traveling, finding a studio or gym you can trust is a big problem. MindBody's exclusive online browser finder locates the next available fitness class wherever you are, from their extensive list of qualified fitness studios located throughout the country.
Whether you're in Seattle or Miami, New York or L.A., just
browse to the MindBody finder web page @ www.mindbodyfinder.com,
pick a practice (Pilates, yoga, etc.,)
enter your location, and
forget about slogging on that worn out hotel treadmill.
(Tip: if you're a YPL client, you can also book YPL classes and sessions directly through the browser.)
---
The Pilates System
Joseph Pilates explained his breakthrough fitness concepts nearly a century ago, when he developed an interrelated set of physical and mental relationships that, when followed, achieve a defined goal. (You can read the original Pilates Method at benjamindegenhardt.com.)
To explain his revolutionary fitness plan he diagramed the importance of developing a physical and mental relationship.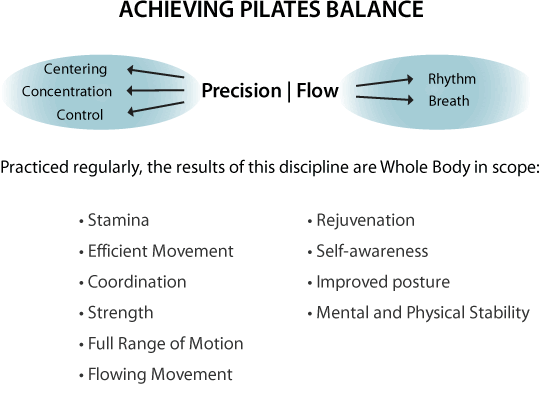 At YPL, the Classic Practice focuses on achieving the rhythmic harmony that naturally occurs when mental clarity and physical conditioning are in synch. The feeling you experience is one of accomplishment, control, and exhilaration after powering through a challenging workout.
---
Two Ways To Share Pilates Fit: Buy YPL Gift Cards Online Or In The Studio
A YPL Gift Card is a great way to introduce a friend to Pilates fitness. Treat someone special to a memorable fitness experience that's sure to make a difference.
Shop for your YPL Gift Card online today. Just select the Online Store tab, then look for Gift Cards - or customize our special YPL house brand (above) the next time you visit the studio.