Ow! Ow! Ow! What Happens When You Cramp

It's happened to everyone. Getting out of bed in the morning, working out in the gym, or just jogging along minding your own business.
All of a sudden it feels like your (pick a location) muscle is going to tear in half. Well, you'd be half right about that.
EAMC is the acronym for Exercise Associated Muscle Cramping, and according to the Pilates blog Effortless Movement certain movements, like Teaser, are more likely to result in cramping. Asking your body to perform eccentric poses is what leads to cramping, and in Pilates we're doing that a lot.
So what's the solutIon? Forget about fluid or electrolites as being the culprit. Turns out the answers mostly mental. Find out why on the blog.

News About Your Skin And Sunblock
Australians were the first to learn whether or not the use of sunblock could reduce the effects of aging on the skin. Turns out that when a quality product is applied regularly and liberally, sunblock can indeed slow the aging process.
In the study of 900 Aussies aged 25 to 55, the researchers found that after four and a half years of study a broad spectrum SPF 15 or greater sunscreen – one that protects against both UV A and B – resulted in significantly smoother, more resilient skin.
Everyone's Talking About - Kale?
This Versatile Green Is Popping Up Everywhere
Kale, often used as an ornamental, is now getting a lot of hype as a miracle food. Kale is part of the Brassicaceae family that also includes cauliflower, cabbage, bok choy and broccoli, but unlike collards it doesn't have to be cooked for hours to transform it into a meal time essential.
In my home, I enjoy kale lightly sauteed, as a last minute ingredient to any number of soups, and as a raw signature salad ingredient. I just learned that when frozen for storage it easily crumbles for use as a condiment and also perfect as the main component in a vegetable smoothie.
Kale's heralded as a superfood, a title that also includes salmon, blueberries, soy, walnuts, and oats. If you haven't yet enjoyed this excellent addition to meal planning, you're in for a treat.
---
Saturday Morning Wake Up
Start the weekend right. Warm up with a mat class at nine, then follow up with a 10 o'clock tower class!
Saturdays, 9-11 - enjoy the mat, then stay for the tower (limit 2) challenge!
---
Don't Be A Stranger!
In every studio it's inevitable that sooner or later a favorite student goes missing. Sometimes new pastures beckon, life throws a curveball, or the family is growing. Or maybe it's just time for a break in the routine.
Whatever the reason, lets stay in touch. If you've got unused sessions and don't want to see them expire, I can put them on hold until you're ready.
---
Connect With YPL Online
Social media is how I stay in touch with my profession and my great YPL clients! For specials, events, and ways to get more out of your Pilates training, check out my Do The 100 blog. I also tweet and post on Facebook and Google+, so please follow, like or circle my pages and let me know what's on your mind.

You can now book your next YPL Private or Duet (sorry, no group class sign-up yet) directly inside Facebook.
On the YPL Facebook page you'll see a MindBody app sitting on top of a Book Online tab. Just select a service — Private or Duet — a type (same choice) and a day and time. It's that easy.
When finished you can share (we'd sure like it if you did) your YPL fitness session activity directly to your own page. The app does the rest, and your Facebook friends will know how much you enjoy YPL PIlates!
Convenient And Secure Online Scheduling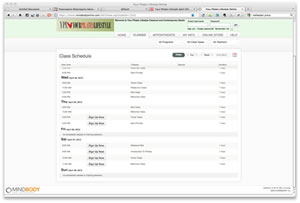 YPL offers several convenient ways to book online, including the main YPL online scheduler (left.) Perfect for booking your appointments, classes, and for maintaining your account, it's fast, convenient, and available 24-7. Not sure how it works? Visit the help page for tips.
What happens if you try to sign up only to discover you've missed the cutoff time for the workout slot you wanted? Just e-mail or call, and if there's a spot open I'll work you in. The same goes for those rare occasions when the system's down, or if you need to late cancel.
---
Road Warriors Need To Work Out Too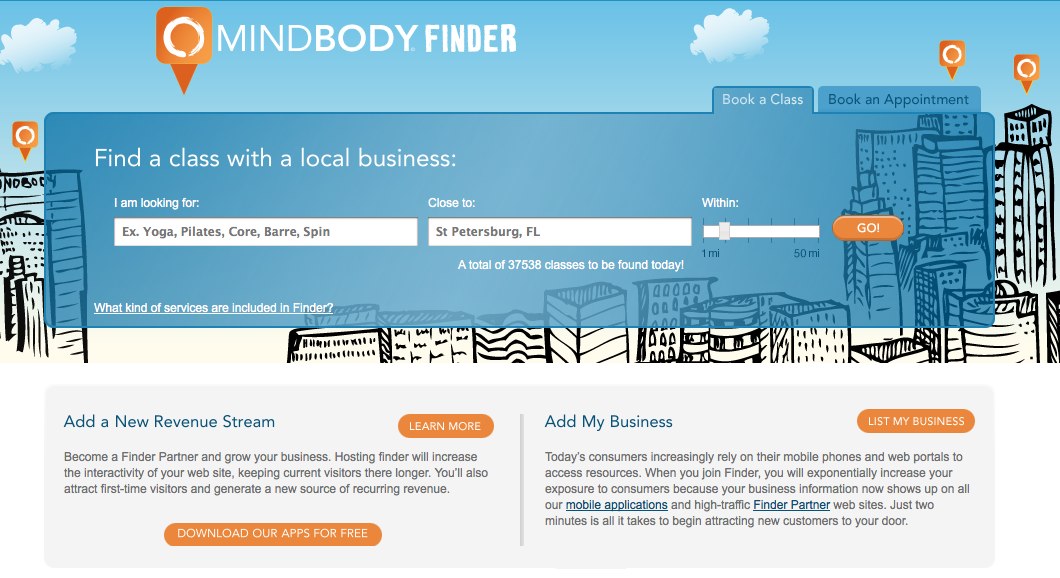 When you're traveling, finding a studio or gym you can trust is a big problem. MindBody's exclusive online finder locates the next available fitness class wherever you are, from their extensive list of fitness studios located throughout the country.
Whether you're in Seattle or Miami, New York or L.A., just
browse to the MindBody finder web page,
pick a practice (Pilates, yoga, etc.,)
enter your location, and
forget about having to make do with that worn out hotel treadmill.
(Tip: if you're a client, you can also book YPL classes and sessions directly through the browser.)
There's also a collection of mobile apps for your phone or tablet, so no matter how you choose to connect, there's no excuse for skipping class anymore.
The Pilates System
Joseph Pilates explained his breakthrough fitness concepts nearly a century ago, when he developed an interrelated set of physical and mental relationships that, when followed, achieve a defined goal. (You can read the original Pilates Method at benjamindegenhardt.com.)
To explain his revolutionary fitness plan he diagramed the importance of developing a physical and mental relationship.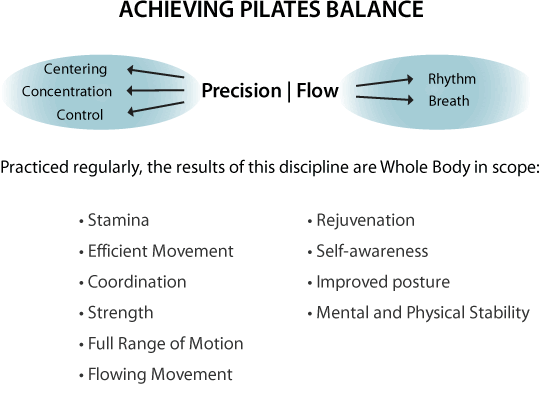 At YPL, the Classic Practice focuses on achieving the rhythmic harmony that naturally occurs when mental clarity and physical conditioning are in synch. The feeling you experience is one of accomplishment, control, and exhilaration after powering through a challenging workout.
---
Two Ways To Share: YPL Gift Cards Online Or In The Studio
A YPL Gift Card is a great way to introduce a friend to Pilates fitness. Treat someone special to a memorable fitness experience that's sure to make a difference.
Shop for your YPL Gift Card online today. Just select the Online Store tab, then look for Gift Cards - or customize our special YPL house brand (above) the next time you visit the studio.