National Pilates Day Special Sale!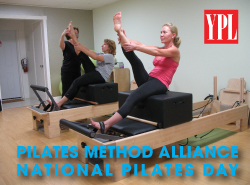 This Friday & Saturday Only
It's that time of the year again when we celebrate the Pilates Method Alliance's National Pilates Day Saturday, May 4th.
This year YPL is doing her part with a 25% off any single mat, arc, tower, or reformer class!
Sale starts Friday, two days only. Grab your deal online May 3rd-4th, or call the studio. Offer good Friday and Saturday only, for any single mat, arc, tower or reformer class. Use Promo Code: PD2013

A Few Planks Will Fix That Core
Planks have long been a favorite way to tone and strengthen back, shoulders, thighs and butts. Variations include – but aren't limited to – hands and knees, side, thread the needle, star, elevated, or whatever combination suits your particular practice.
The great thing about planks is that they're always available. And if you throw in a few pushups while you're at it, you'll see results in no time. For tips Google the interweb and take your pick of online how-tos.
Rollers Well Suited For IT Band Relief
A Little Foam Goes A Long, Long Way
Foam rollers are the latest fitness trend sweeping the country. These brightly colored cylinders of semi-rigid foam in varying lengths and diameters are used to loosen up the tough fascia tissue that binds your skin to your muscles.
As fascia builds up, it causes the muscles to tighten, forming knots in the process. Regular use of a roller releases the fascia, massages the knots out of the muscle, and over time serves to lengthen and smooth those long muscles that are so important to our well being.
One Question: Does It Hurt?
Yes, just like a deep tissue massage, and with use it gets easier. The secret is moderation and common sense.
Rollers can be used just about everywhere on the body, and are particularly effective on the IT band running along the outside thigh and on the triceps and biceps. Bony projections (the hip bone, for instance) should be avoided.
---
Saturday Morning Wake Up
Start the weekend right. Warm up with a mat class at nine, then follow up with a 10 o'clock tower class!
Saturdays, 9-11 - enjoy the mat, then stay for the tower challenge! (limit 2)
---
C25K – What's That All About?
If there's one thing that's constantly on people's minds, it's motivation. Or more accurately, getting motivated and staying that way. And that's the idea behind this runner oriented online hangout – C25K, which stands for Couch To 5K.
Designed to give running newbies confidence, C25K is a very forgiving training approach that starts with a short walk and ends nine weeks later with a successful 30-minute 5K.
There are plans that include your favorite puppy, and treadmill and metric versions as well. The point is that everyone needs motivation sooner or later, and C25K is a great source of inspiration regardless of your activity.
Don't Be A Stranger!
In every studio it's inevitable that sooner or later a favorite student goes missing. Sometimes new pastures beckon, life throws a curveball, or the family is growing. Or maybe it's just time for a break in the routine.
Whatever the reason, lets stay in touch. If you've got unused sessions and don't want to see them expire, I can put them on hold until you're ready.
---
Connect With YPL Online
Social media is how I stay in touch with my profession and my great YPL clients! For specials, events, and ways to get more out of your Pilates training, check out my Do The 100 blog. I also tweet and post on Facebook and Google+, so please follow, like or circle my pages and let me know what's on your mind.

You can now book your next YPL Private or Duet (sorry, no group class sign-up yet) directly inside Facebook.
On the YPL Facebook page you'll see a MindBody app sitting on top of a Book Online tab. Just select a service — Private or Duet — a type (same choice) and a day and time. It's that easy.
When finished you can share (we'd sure like it if you did) your YPL fitness session activity directly to your own page. The app does the rest, and your Facebook friends will know how much you enjoy YPL PIlates!
Convenient And Secure Online Scheduling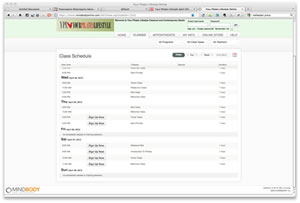 YPL offers several convenient ways to book online, including the main YPL online scheduler (left.) Perfect for booking your appointments, classes, and for maintaining your account, it's fast, convenient, and available 24-7. Not sure how it works? Visit the help page for tips.
What happens if you try to sign up only to discover you've missed the cutoff time for the workout slot you wanted? Just e-mail or call, and if there's a spot open I'll work you in. The same goes for those rare occasions when the system's down, or if you need to late cancel.
---
Road Warriors Need To Work Out Too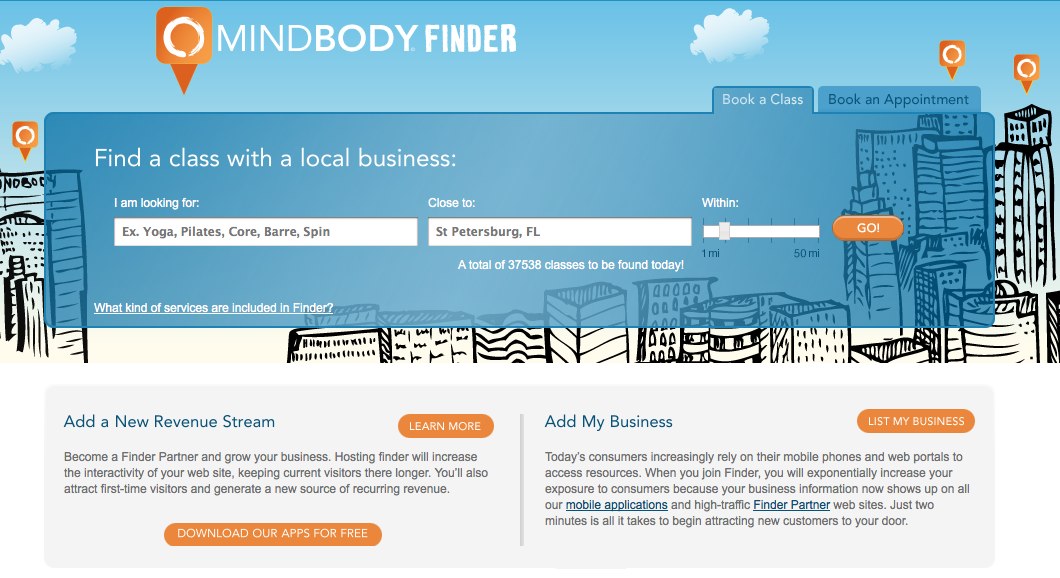 When you're traveling, finding a studio or gym you can trust is a big problem. MindBody's exclusive online finder locates the next available fitness class wherever you are, from their extensive list of fitness studios located throughout the country.
Whether you're in Seattle or Miami, New York or L.A., just
browse to the MindBody finder web page,
pick a practice (Pilates, yoga, etc.,)
enter your location, and
forget about having to make do with that worn out hotel treadmill.
(Tip: if you're a client, you can also book YPL classes and sessions directly through the browser.)
There's also a free mobile app for your phone or tablet, so no matter how you choose to connect, there's just no excuse for skipping class anymore.
The Pilates System
Joseph Pilates explained his breakthrough fitness concepts nearly a century ago, when he developed an interrelated set of physical and mental relationships that, when followed, achieve a defined goal. (You can read the original Pilates Method at benjamindegenhardt.com.)
To explain his revolutionary fitness plan he diagramed the importance of developing a physical and mental relationship.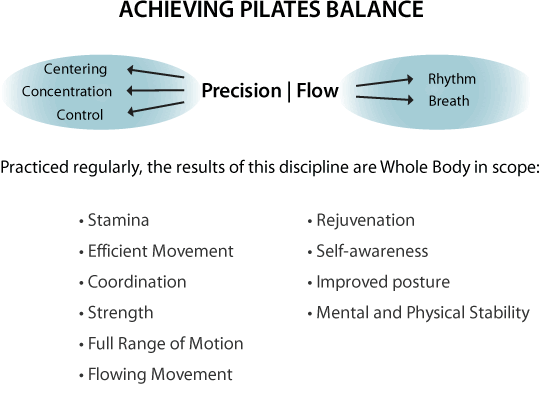 At YPL, the Classic Practice focuses on achieving the rhythmic harmony that naturally occurs when mental clarity and physical conditioning are in synch. The feeling you experience is one of accomplishment, control, and exhilaration after powering through a challenging workout.
---
Two Ways To Share: YPL Gift Cards Online Or In The Studio
A YPL Gift Card is a great way to introduce a friend to Pilates fitness. Treat someone special to a memorable fitness experience that's sure to make a difference.
Shop for your YPL Gift Card online today. Just select the Online Store tab, then look for Gift Cards - or customize our special YPL house brand (above) the next time you visit the studio.